"The guide is designed by practitioners for practitioners seeking to design and run responsible research evaluations in their organisations. We believe the SCOPE framework bridges the gap between high-level statements of principle for responsible metrics, and the actual practical implementation of those principles through the design and delivery of responsible evaluations. We hope this new guide, complete with practical case studies, will be a significant help to busy practitioners seeking to deliver on their responsible research evaluation aspirations", Tanja Strøm, Deputy Chair of INORMS Research Evaluation GroupThe International Network of Research Management Societies (INORMS)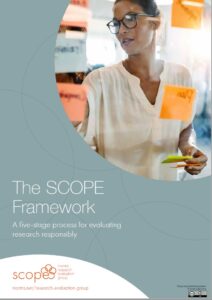 Research Evaluation Group (REG) has released November, 22 an 18-page guide to their framework for responsible research evaluation called SCOPE.
Established in 2018, the INORMS REG has been working to better understand and develop best practices in responsible research evaluation with the aim of providing practitioners and senior leaders the tools they need to effectively and responsibly evaluate research. The SCOPE Framework for responsible research evaluation resulted from their work.
Over the past year the Group have partnered with a range of funders, institutions and publishers to apply SCOPE to a series of real-life evaluation problems with the aim of testing the model. The guide draws on the learnings of these explorations, many of which have been included as case studies. The aim of the guide is to assist any organisation seeking to design a responsible research evaluation. It was designed by their publishing partner, Emerald Publishing, and is now available as an open resource under a CC-BY licence.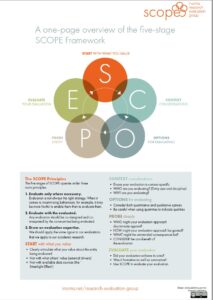 The SCOPE framework for responsible research evaluation comprises of five stages:
START with what you value 
CONTEXT considerations 
OPTIONS for measuring 
PROBE deeply 
EVALUATE your evaluation 
This content is available online, including one-page summaries in various languages, and is available for no charge. In addition to the SCOPE guide, additional materials have been developed including fuller case studies using the framework from a variety of international contexts including research universities, publishing companies, and funding agencies. More information and materials can be found online here: https://inorms.net/research-evaluation-group/.
The REG is available for additional workshops and program development in the use of SCOPE. Contact the group by reaching out to the Chair, Dr. Elizabeth Gadd, e.a.gadd@lboro.ac.uk or the Deputy Chair, Tanja Strom, tanja.strom@oslomet.no.