01/03/2022 - 03/03/2022
08:00 - 12:30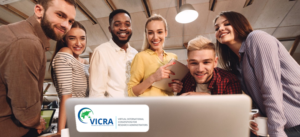 SRAI International Section Meeting
The Inaugural Virtual International Convention for Research Administrators (VICRA)
1-3 March 2022
The Early Bird discount, until 15 December 2021, for inaugural Virtual International Convention for Research Administrators (VICRA) is 25%, bringing the price for the 3-day event down to only USD 224. Moreover, for institutions with three or more registrations, their attendees will get the SRAI memberships for free. (A standard individual ticket will be USD 299 plus a membership fee of USD 220 = USD 519.)
VICRA is a 3-day-long, online live event for early to mid-career research administrators to be held in the waking hours in four continents, from the East Atlantic to the West Pacific shores, covering half the globe.
To allow registrants to attend within their wake hours, the convention will take place from 9:00 am to 1:00 pm in the Coordinated Universal Time Zone. This will make the start time 9:00 am in London and 8:00 pm in Sydney.
VICRA will comprise a stimulating mix of live webinars and on-line workshops, structured in topical Streams. A Stream comprises three, six or nine 40-minute presentations (plus a Q&A for each).
The Seven Streams are Personal Development (3), From Networking to Collaboration (3), Understanding Research and Researchers (3), Accessibility and Pitfalls of International Research Funding (6), Innovation to Research Impact (6), Research Integrity – Responsible Conduct of Research (6), and Research Administration as a Profession (9).
Each day will start with stimulating keynote, followed by three concurrent sessions with a choice from four webinars, totaling 3 plenaries plus 36 presentations by 42 invited presenters from 23 countries.
We have secured three great keynotes: the wizard-philosopher Dr. Jason Fox will open the convention with a catching dose of his magical realism; Independent Thinker / Strategic Advisor Dr. Thomas Barlow will kick off the second day; and multi-award winning global Diversity, Equity & Inclusion leader, Sheree Atcheson, author of "Demanding More", will be our Keynote on the last day of VICRA.
Each registrant will have access to recordings of all 39 sessions for six months, and be a member of the VICRA on-line community for a full year enabling discussion of job-specific issues, creation of spin-off workshops, etc.
VICRA aims to cater for research administrators who normally do not have a chance to attend (overseas) conferences and to initiate international mentorships.
Taking part in this on-line by design convention will be a great learning experience and an international professional development adventure.
The four goals of VICRA are:
To support and coach early (and mid-) career research administrators in countries that do not feature a national umbrella organization;
To cater for research administrators who normally don't attend overseas conferences;
To encourage international mentorships; and
To establish a biannual event for existing and new members of the Society for Research Administrators International (SRAI).
Register now online, and follow #VICRA2022 on LinkedIn for the latest updates.
Kart utilgjengelig
Ingen NARMA nett-påmelding for dette arrangementet.